test string
Shreya Gupta - Pride of SNS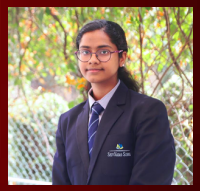 Edison said, genius is one percent inspiration and 99 percent perspiration. That is Shreya Gupta, the topper of our 2021 graduating batch, she has secured admission to the 4-year Mathematics and Computing Course at IIT-Delhi
In an online session, Shreya met some of our Gr. 11 IIT aspirants, elucidating her process and methodology to tackle the syllabus and bust the myths around the JEE. Shreya shared her mantra to success amidst the uncertainty of the board exams schedule, the unprecedented pandemic and the toll it all took on the psyche. Shreya realised this early and charted her course accordingly, a balance between work and play, she worked on small doable goals. Shreya, besides being a diligent student, has participated and won awards in multiple events related to art, theatre, MUN, essay, poem writing and entrepreneurship.
The multifaceted, gracious Shreya answered questions related to her mantra to fix her goal and chart the course back from there. She broke up the tasks into small doable bits thus not leaving herself overwhelmed but with a sense of achievement. Doing a little everyday mixing study with arts and entertainment is the mindfulness that ensured Shreya a seat at IIT-Delhi.
The session was curated by our student, Shagun Jha. Samarth Agarwal welcomed and offered a vote of thanks.