International Baccalaureate Diploma Programme
Shiv Nadar School Gurgaon, Shiv Nadar School Noida and Shiv Nadar School Faridabad are IB World Schools. All three schools are offering the International Baccalaureate Diploma Program (IB-DP) for Grades XI and XII.
IB World Schools share a common philosophy-a commitment to improving the teaching and learning of a diverse and inclusive community of students by delivering challenging, high-quality programmes of international education that share a powerful vision.
For further information about the IB and its programmes, visit www.ibo.org
Sign up for orientation, CLICK HERE
For the Admission Process, CLICK HERE.
For Fee Structure, CLICK HERE.
For Applying to IBDP, CLICK HERE.
To understand key dimensions of the IB Diploma Program and get answers to some frequently asked questions about the IB DP, watch the video on the webinar hosted by our IB DP Coordinators. Some of the questions the webinar answers are:
the broad structure of the IB DP,
how the IB DP prepares learners to thrive in the face of challenge, and
future opportunities for IB DP learners.
IB Mission Statement
The International Baccalaureate aims to develop inquiring, knowledgeable and caring young people who help to create a better and more peaceful world through intercultural understanding and respect. To this end the organization works with schools, governments and international organizations to develop challenging programmes of international education and rigorous assessment. These programmes encourage students across the world to become active, compassionate and lifelong learners who understand that other people, with their differences, can also be right.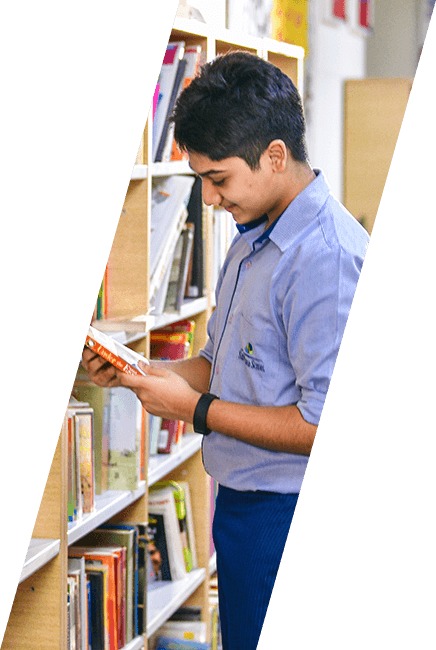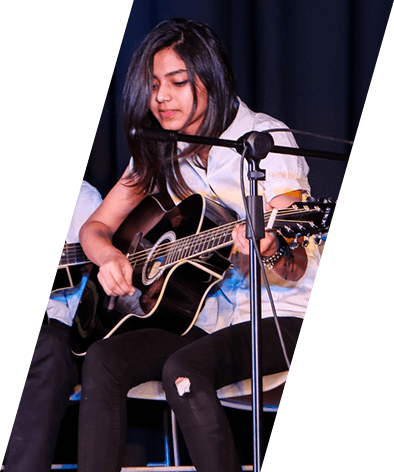 The International Baccalaureate® (IB) Diploma Programme (DP) curriculum sets out the requirements for study of the DP
The curriculum is made up of the DP core and six subject groups.
Made up of the three required components, the DP core aims to broaden students' educational experience and challenge them to apply their knowledge and skills.
ibdp core elements
Theory of knowledge, in which students reflect on the nature of knowledge and on how we know what we claim to know.
The extended essay, which is an independent, self-directed piece of research, finishing with a 4,000-word paper.
Creativity, activity, service, in which students complete a project related to those three concepts.
Six subject groups of IB Diploma Program

Shiv Nadar School Gurugram

Shiv Nadar School Noida

Shiv Nadar School Faridabad

Group I - Studies in Language and Literature

English A: Language and Literature HL / SL

English A: Language and Literature HL / SL

English A: Language and Literature HL / SL

Group II - Language acquisition

Hindi B HL / SL

French ab initio SL

French B SL

Spanish ab initio SL

Spanish B SL

German ab initio SL

German B SL

French ab initio SL

French B SL

Spanish ab initio SL

Spanish B SL

Hindi B HL / SL

French B SL

German B SL

Group III - Individuals and societies

Business Management HL / SL

Economics HL / SL

Geography HL / SL

Global Politics HL / SL

Social and Cultural Anthropology HL / SL

Psychology HL / SL

History HL / SL

Business Management HL / SL

Economics HL / SL

Social and Cultural Anthropology HL / SL

Psychology HL / SL

Environmental Systems and Societies SL

Geography HL/ SL

Golbal Politics HL/ SL

Business Management HL / SL

Economics HL / SL

Geography HL / SL

Environmental Systems and Societies SL

Group IV - Sciences

Chemistry HL / SL

Biology HL / SL

Physics HL / SL

Environmental Systems and Societies SL

Computer Science HL / SL

Chemistry HL / SL

Biology HL / SL

Physics HL / SL

Environmental Systems and Societies SL

Computer Science HL / SL

Chemistry HL / SL

Biology HL / SL

Physics HL / SL

Environmental Systems and Societies SL

Computer Science HL / SL

Group V - Mathematics

Math Analysis and Approaches HL / SL

Math Interpretation and Application HL / SL

Math Analysis and Approaches HL / SL

Math Interpretation and Application HL / SL

Math Analysis and Approaches HL / SL

Math Interpretation and Application HL / SL

Group VI - The Arts

Visual Arts HL / SL

Theatre HL / SL

Music HL / SL

Film Arts HL / SL

Visual Arts HL / SL

Film Arts HL / SL

Theatre HL / SL

Music HL / SL

Visual Arts HL / SL