Evolving to attain Education for Life
As we reach the final destination of our Glimpses 2021 journey, it's time to look at how we Evolved, to proceed from good to great. Challenges often prove to be the most effective teachers, as they force us to push our limits, explore the unknown and reach higher summits. Our faculty members were faced with the daunting task of providing excellent learning in a virtual environment, getting students back to school safely, supporting students and peers who have lost family members due to the pandemic, and continuing their learning.
Celebrating Perseverance
Every goal is achieved twice; once in the mind and then in the real world. Our educators planned, prepared, and performed beyond their limits and once again proved their mettle. True VUCA warriors, they transformed Volatility to Vision, Uncertainty to Understanding, Complexity to Clarity and Care, and Ambiguity to Agility. Cheers to Peers, our annual event for honouring our educators, was celebrated with great gusto, though virtually. Here's the video we released during Cheers to Peers, to express our gratitude.
Channelizing Student Potential
The future of our students is our utmost priority. Hence, even during the years which challenged the norms, we continued guiding students in the best possible way. Students received counselling from accomplished Career Guidance Cell members to make their applications to leading national and international universities in a way that reflects their potential. The new methods of college interactions and selections had to be understood, and students needed to prepare for a virtual start to their higher education journey.
The CGC leads and counsellors walked the extra mile to ensure that students don't miss any opportunities. Over the past year, students secured admission to reputed colleges across the globe. Some colleges where our alumni study are Huron University, McMaster University and University of Toronto in Canada, Keio University Japan, Kings College London, and IIT Madras and Christ University in India. A shout-out to our dedicated counsellors who connected with students, families, and college authorities seamlessly during the pandemic and facilitated the admissions.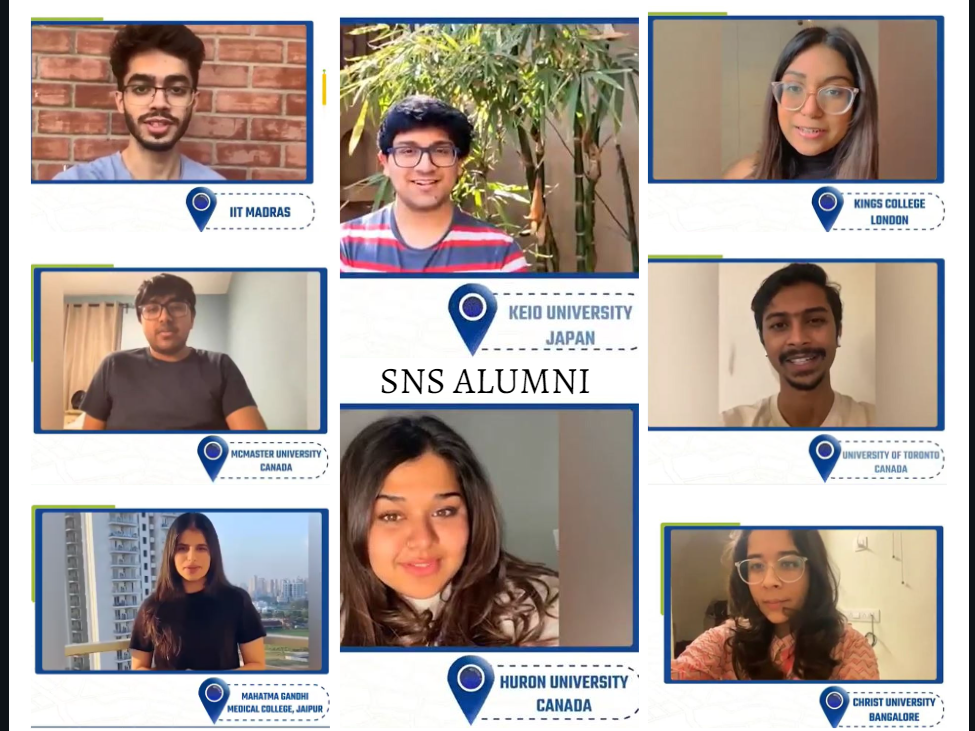 Standing by our Community
Tough times that test us also reveal our well-wishers. When our students, parents, and staff members faced adversities, we took every possible step to support them. While some suffered financial challenges, others lost loved ones and went through grievous times. Our close-knit community came together to contribute funds for various causes. Teachers pooled funds to distribute rations and medicines to the support staff.
The school started a Fundraiser campaign to extend help to the students who lost a parent to the pandemic. The core team coordinated with the Parents Partnership Group and tied up with a non-profit Trust to maintain transparency and accuracy in all transactions. The leadership, teachers, and parents all contributed to a Relief Fund, creating a corpus of INR 39,00,000. The team identified ten beneficiaries. Ms. Shashi Banerjee, Director of Education, and Ms. Pooja Malhotra, Head, Parent Partnership, met the families and handed them the cheques.
It was indeed a year of many trials and triumphs. Despite several disruptions, the collective efforts of teachers, parents, and students ensured our steady progress. Whether in Arts, Literature, Science, or Sports, our students continue to win laurels. Even as we hope for a more stable year ahead, we are empowered with knowledge, values, and mindfulness, and confident that we will ace the exams that life brings our way.
May 4, 2022 by Shiv Nadar School