Vision 2015
Innocence and boundless imagination – they both exist in exquisite forms in the world of children. It is worth wondering, what will be the shape our policies and plans for future take, if children were to craft them and cast them into their vision of the world. And no, their perfect world does not comprise of houses made of candies and rivers flowing with chocolate. Theirs is a world where education is primary, where parity is the world order and where love and sharing are prime virtues. A conversation around holidays, festivals and their hopes from the coming year revealed to us thoughts which were studded with starry imaginations and good intentions.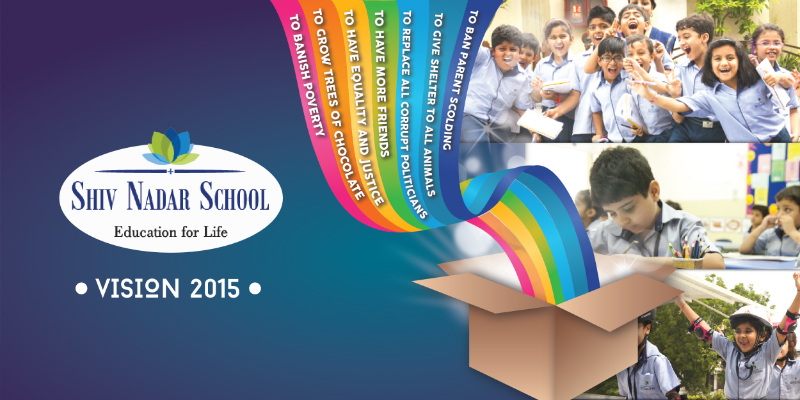 Festivals remind us all of a time for joy, for sharing, for lighting lamps, for singing songs, and for trying to bring a smile on the faces of our near and dear ones. For our students, festivals are also the time to eat fancy, on-demand delicacies and heighten their claims for long pending gifts. Festivals also mean memories and stories, made in childhood, and relived each year while growing up.
While singing songs and enjoying the festive season with our students, both from Noida as well as Gurgaon school, we also asked them a question – 'If you could change on thing about the world in 2015, what would it be?' The answers we received, both, surprised us, and warmed our hearts. Here is a broad peek into what our students desire to make happen in 2015. Let our actions be guided by these little desires of our students as we set out to live 2015 as another grand year of our life.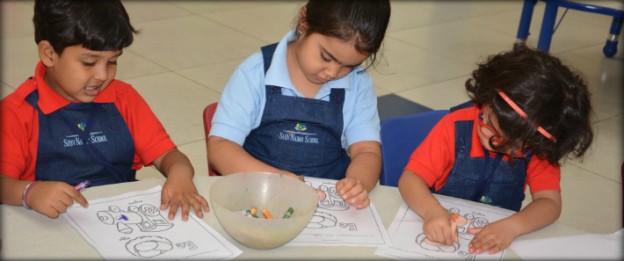 Purposeful Pursuit of Excellence
Peace for humanity
In no uncertain words did our students tell us that the one thing wrong with the world is that it lacks peace. Individuals lack peace within themselves and humanity lacks a sense of patience and tolerance. Unanimously, hence, one thing our students would like to change in the world in 2015 is the sense of unease, conflict, narrow thinking and selfishness which plagues us all.
Justice and Equality for All
Even in their tender years, the slow pace of grievance redressal and justice delivery has affected the imagination of our students. They want citizens to have a chance at fair living with all human rights granted and protected by the Constitution. In the words of a student -
I would like to change the justice system in India as many people do not get justice and their trials are pending for years.
Constructing a New Planet
Our students do not only consider themselves citizens of India. In a world we have begun calling 'Glocal', children are the first to adopt for themselves the identity of a 'World Citizen'. Therefore, the carelessness with which we continue to treat Mother Earth worries them. Here are a few thoughts -
I would like to change the way the earth looks. I would change all the littered areas and polluted roads into new ones.
The main thing I would change is hatred – it is continuously dividing our planet.
A world of Literacy and Gender Empowerment
Our students are little crusaders under their shell. The concern they have for Child Rights, Gender Empowerment and cause of Education is heartwarming. Following are their thoughts -
'If I could change one thing about the world it would be to educate girls and promote girls' education.'
'I would open schools for girls in rural areas with female teachers. I want to change the mentality of those parents who favour male child.'
Freedom of Thought
True blossoming of human potential cannot happen in the absence of restrictions on imagination and thoughts. Anything that constrains these is out of scope in the idea of a perfect 2015 that our students have conjured. Let's hear it in their words -
'I would finish superstitions and myths completely as they stop us from thinking freely.'
'I want to create a world free of judgements and prejudice.'
An Inclusive Existence
We can never create a worthy world if plants and animals are not given a safe space to exist. Trees being cut and animals being slaughtered are issues which cause pain to our students. They want stray animals to have a home and the earth to retain its green colour.
A Final Word
Yes, they want to see many good things in the world, but they do realise that we all have to be a part of this change. As Ananya puts it –
'Only one person can't change the world, but I would still do my best.'
To conclude our thoughts here, we have a powerful point to ponder. Here is a wish which to set you thinking, for it says a rather profound thing very simply – 'I want to ensure that our childhood never comes to an end.' Can we attempt together and make this happen?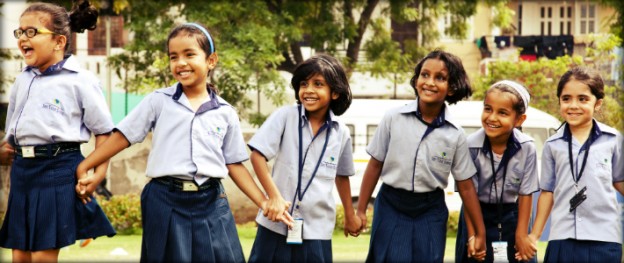 Holding hands for a better tomorrow
Jan 7, 2015 by Shiv Nadar School Faridabad