A Tryst With Sufi Music
Have you ever had the good fortune of listening to voices steeped in divine fervour, belting out melody after melody, addressed to the Creator? Have you ever felt a part of the stupor which overtakes a being when love-filled songs reverberate in his surroundings? Have you ever heard the music, the mere aura created by which infuses in your philosophies of love, secularism, devotion and peace? The students of Shiv Nadar School, Noida became the fortunate audience to precisely this kind of a musical extravaganza on the afternoon of 29th July. A Qawwalli baithak was organized under the aegis of SPIC MACAY's All India Virasat Series 2014, where Yousuf Khan Nizami sahab performed along with his entourage of vocalists and instrumentalists
Yousuf Khan Nizami sahab was born in 1974 and is widely recognized among the leading vocalists in sufi style, as well as the modern tradition of Qawwali singing. He is an illustrious singer from the Sikandrabad Gharana, which has given India other legendary singers like Ustad Qudratullah Khan sahab and Ustad Kiyafatullah Khan sahab. His command over Qawwalis and Sufiyana qalams is impeccable.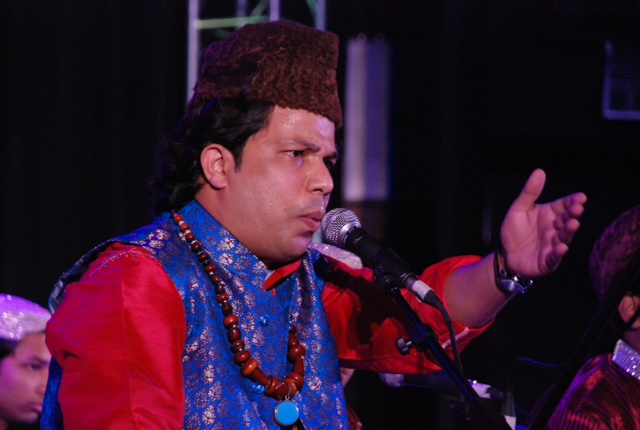 Appreciation of arts is an essential part of the curriculum at Shiv Nadar School. We feel it is important to make our children recognize and associate with the rich cultural traditions which are a part of our collective ancestryIn this endeavour, it was a matter of privilege to partner with an organization like SPIC MACAY, "The Society for the Promotion of Indian Classical Music And Culture Amongst Youth", which is devoted to sensitizing the younger generation towards our rich and glorious heritage of performing arts and culture.
Nizami sahab began his performance with what is called a 'Hamd' – a type of invocation to the almighty, for his blessings should be sought to make any endeavour auspicious and successful. This Hamd contained praises of the Almighty, hailing him as the essence pervading the world, as the One who exists when nothing else does. This divine fervour led way to a sufiyana qalaam, penned by Hazrat Amir Khusrau, the famous poet, musician and philosopher, who carried with him the message of communal harmony.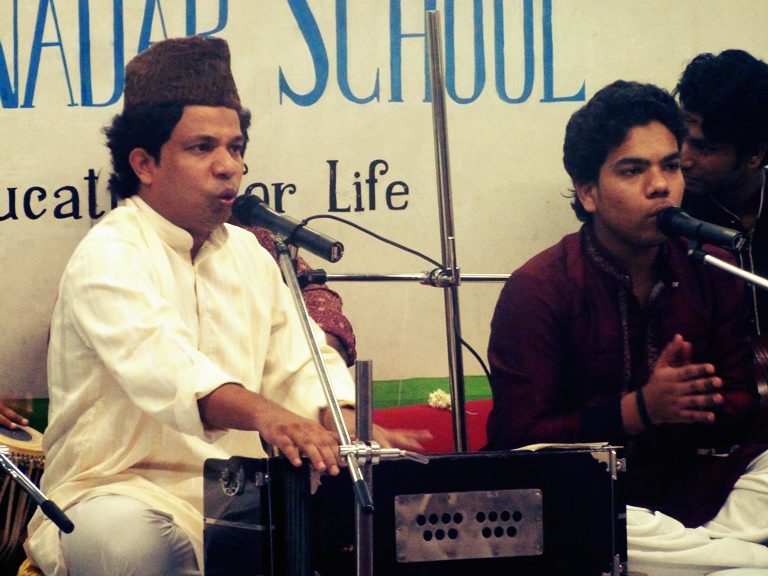 Nizami sahab also engaged the audience in a mini-quiz on Hazrat Khusrau in an attempt to educate children about the great feats this thirteenth century Sufi accomplished in his life time. Since Khusrau is known for having invented the Tabla, Nizami sahab's performance contained a section where his percussionist did a solo Tabla instrumental, playing the instrument not just with him fingers, but also his elbow! The energy levels created by Nizami sahab and his entourage were unbelievable, and the audience could not help but sway and clap with the music.
The last song performed was the stupendously famous 'Damadam Mast Qalandar', a perfect end to an hour long session of overwhelming musical fervour. Nizami sahab was thanked by students, teachers and the Principal, Mrs. Shashi Banerjee, for giving students not just entertainment, but knowledge of their craft and teaching them values of devotion, love and peace for humanity.
Aug 8, 2014 by Shiv Nadar School Noida