Towards a Breathable Tomorrow
I was looking up at the sky two days before Diwali, and surprisingly, this year, it was clear. The sound of crackers wasn't threatening to decapitate my ears and my grandparents did not have to rush out of town just to stay alive. I remembered gazing intently at the same sky last Diwali. It was hazy, dark clouds had perpetually shrouded Delhi NCR, obscuring the sun, and submerging my hometown in a seemingly incessant gloom. I sighed and snapped out of my reverie, still wondering, whether banning the sale of crackers in Delhi had been the right thing to do.
– Tvisha Raj (Grade 6, Shiv Nadar School, Noida)
We hope your Diwali was a time when warmth was shared between family members, when old stories of our culture were revisited and when light was spread in all corners of the home and the heart. Diwali is a grand and glorious festival, when people come together to rejoice, pray and spread smiles. Unfortunately, however, in the recent past, Diwali has also become a day which makes headlines for all the wrong reasons. It is a day when massive amounts of noxious fumes descend over different places, all because of unscrupulous burning and bursting of crackers, which other than polluting the air, are also a source of high decibels of noise. The fumes and noise pollution put together are potent of causing different kinds of health issues, in both, humans and animals.
This year, the judiciary of the country also got active and banned the sale of crackers in the hope that pollution levels could be controlled. This ban on sale, did not, however, lead to a complete elimination of crackers from the Diwali celebration. The after-effects of the same, are still getting recorded and reported.
As the Diwali time neared, Shiv Nadar School increased its efforts towards spreading awareness about the ill-effects of cracker bursting, along with letting students know the true essence of the festival of lights. Schools and students have known to be at the forefront of leading anti-cracker movements, and in many ways, are successful in their efforts. Students of grade 6, Shiv Nadar School, Noida, however, decided to take this movement beyond the usual campaigns. They added a scientific twist to their awareness campaign, and addressed the specific issue of respiratory health while telling people about the perils of Diwali related pollution.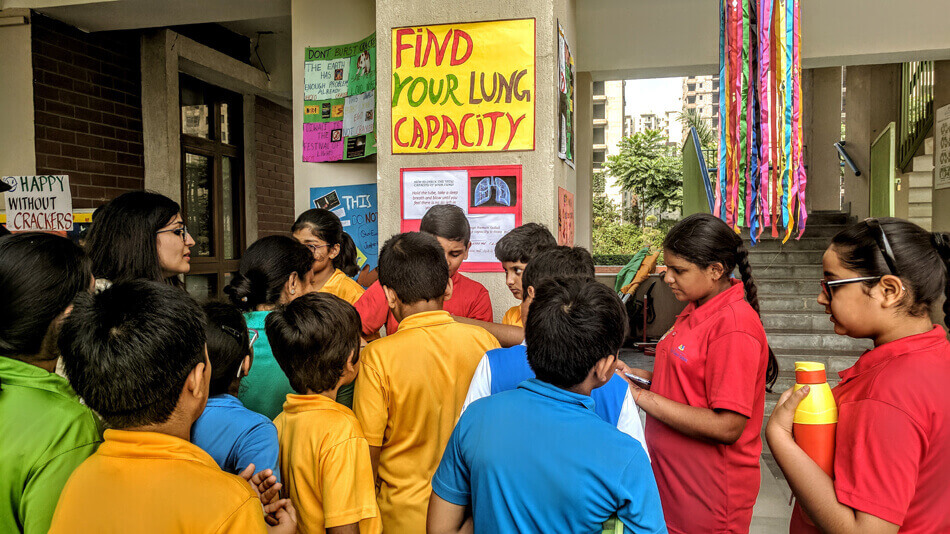 'Find Your Lung Capacity' – announced a stall in the main corridor of Shiv Nadar School, Noida, a few days before the Diwali break. Our young scientists had set up an apparatus that helped determine how actually your lungs were affected under the influence of Diwali cracker bursting. Avani Aggarwal, a student of grade 6, explains,
"We took a 5L bottle, a measuring cup and a marker and marked units of 250 ml on the bottle. Then, we filled the bottle with water, and turned it upside down in a container. After that we inserted a pipe into the mouth of the container. What we asked people to do is, take their deepest breath in, place their mouth on the pipe and blow into it. (Don't worry! we had it properly sanitized!) The amount of water that got displaced is your lung capacity."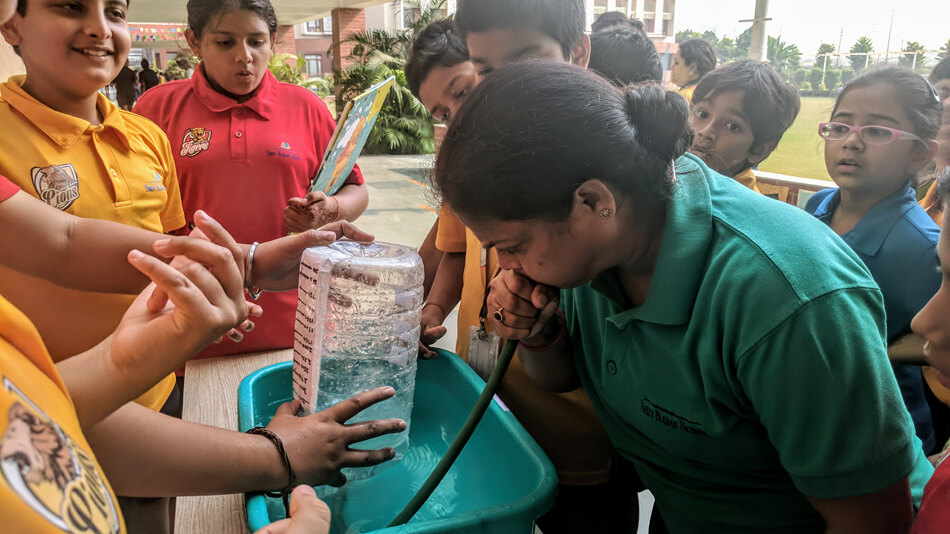 She also explained why such an experiment was being conducted –
"The basic reason for conducting this simple, yet effective test was to spread awareness about the deteriorating air quality due to different causes like smoke from vehicles, fire crackers, pollution emanating from factories, etc. We decided to do it before and after Diwali as it was near and this is the time when pollution rates go higher due to fire crackers! The vital capacity of lungs for a child should be 3.6L, a woman 4.2L and a man 6L. What shocked people was the fact that even before Diwali, their lung capacities were way less than what it should be!! For example, children ranging from 10-12 years had the lung capacity of 1.25L on an average."
The approach students took to tackling the issue at hand was innovative, and it generated a lot of curiosity among passers-by. The experiment is not yet complete. Once the school re-opens post Diwali, the same procedure will be conducted to check for signs of visible differences in the lung capacity caused by Diwali-related pollution.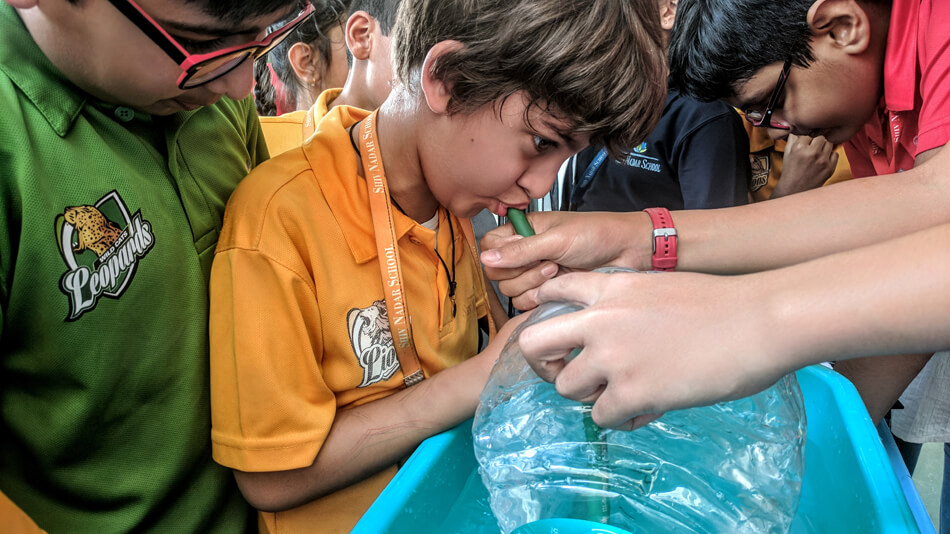 The young scientists of the school were supported by the artists as performers, who put up posters and conceptualised a play, highlighting the same issue. All of them were happy with their effort, and the response they received. Shared, in their own words,
"We believe we were able to pass on our message. When people checked their lung capacities, it really got them wondering whether they should be burning firecrackers this year and cause more pollution to the already extremely polluted region Delhi NCR is!
Oct 21, 2017 by Shiv Nadar School