A Time To Make Learning Creative!
Complete immersion in learning is one of the foremast practices at Shiv Nadar School. Each year, grades across the school experience a topic or a theme through integrated, experiential and immersive learning. By now you would know, this dedicated time is called Funkaar Week – where the artist, researcher, orator, scientist or explorer hidden in students finds the opportunity to express themselves, while the curriculum objectives get met in this innovative learning process.
Students of Shiv Nadar School Gurgaon recently observed their Funkaar Week for the primary classes. The week was an opportunity for arts to mingle with scholastic subjects, for science to pour into literature and for social studies theme to find expression in mathematic – in short, lot of learning, but not in a silo.
Let us give you a gradewise glimpse of this exciting week.
SEASONS
Students of great 1 journeyed through the seasons. Each of the five sections picked a season and undertook deep research about the festivals, occasions, temperature and general climatic conditions during that time. Winter was represented with Bon-Fire, Spring had students flying Kites, Summer contained an Ice-Cream Stall, Monsoon displayed Puddles and Autumn was symbolized by yellowing leaves. Each season also put up a festival corner where the children dressed up in festive clothes and shared stories and significance behind the celebrations. Art, craft, science, and language, thus combined to make seasons come alive in the school corridors.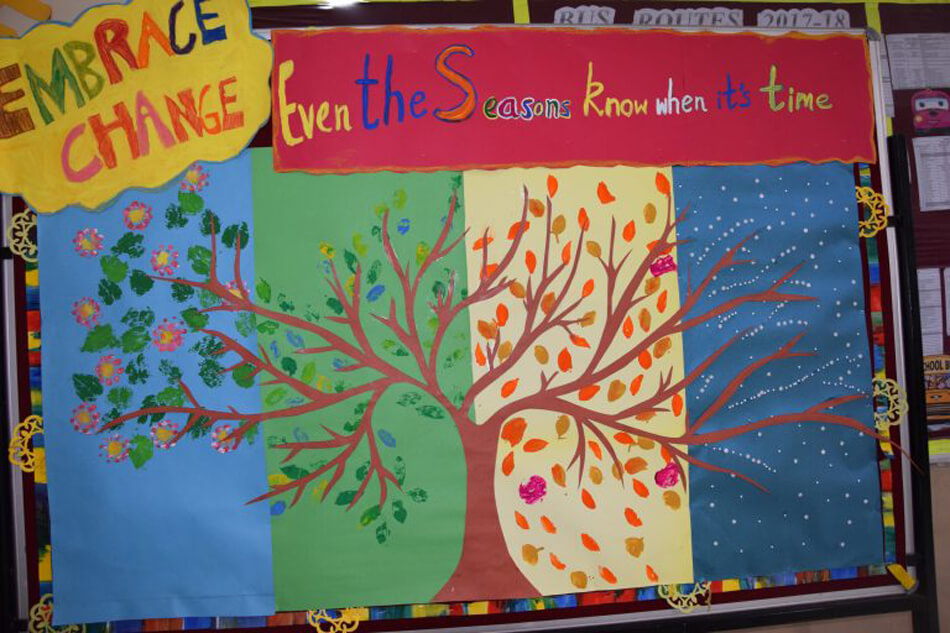 FOOD
India is a land of multiple cultures and an intrinsic part of each culture and region is the food eaten there. Food was the Funkaar theme for grade 2. Under this theme, grade 2 explored food preferences, festive foods, medicinal properties of food, waste management and seasonal food. On the day of the culmination, students laid different counters and stalls, which included food stalls with laddoos, sandwiches, buttermilk and green tea, a display of medicinal plants and a counter which showcased food waste management techniques.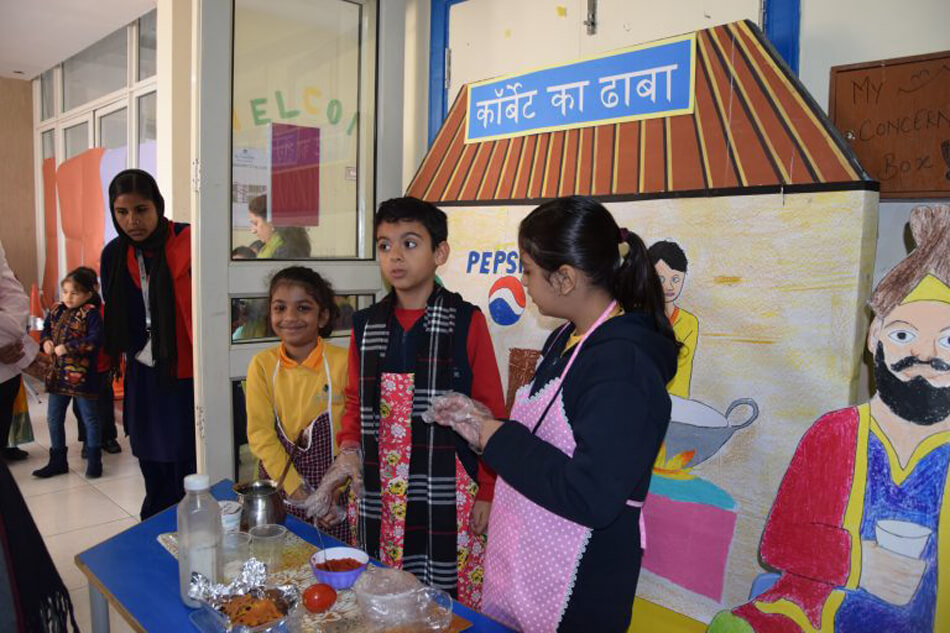 AIR AND WATER
The EVS theme of 'Air and Water' was explored by grade 3 during Funkaar week. Under this broad theme, students learnt about Deforestation, Water Pollution, Story of Yamuna, Water and its properties and Air and its properties. Through making projects and models, all these sub-topics were understood in great depth, and later explained by students during displays on the culmination day. Their final presentations also included a skit on the Chipko Movement.

ANIMALS
The corridors containing grade 4 classrooms buzzed with chirps and wild sounds during the Funkaar Week because the theme chosen by them was 'Animals'. Each section took up a different sub-topic, and these included Birds, Animals, Food Chain, Insects and Vertebrates. Facilitators of each subjects planned lessons in a manner that enabled a deep dive into the concepts, right from building the correct vocabulary, to understanding habits and habitats. Creative endeavours, such as writing the autobiographies of animals was undertaken in language classes. Creativity got yet greater fillip as students conjured animals purely out of their imagination. All this learning, of course, culminated in beautiful displays and sharing.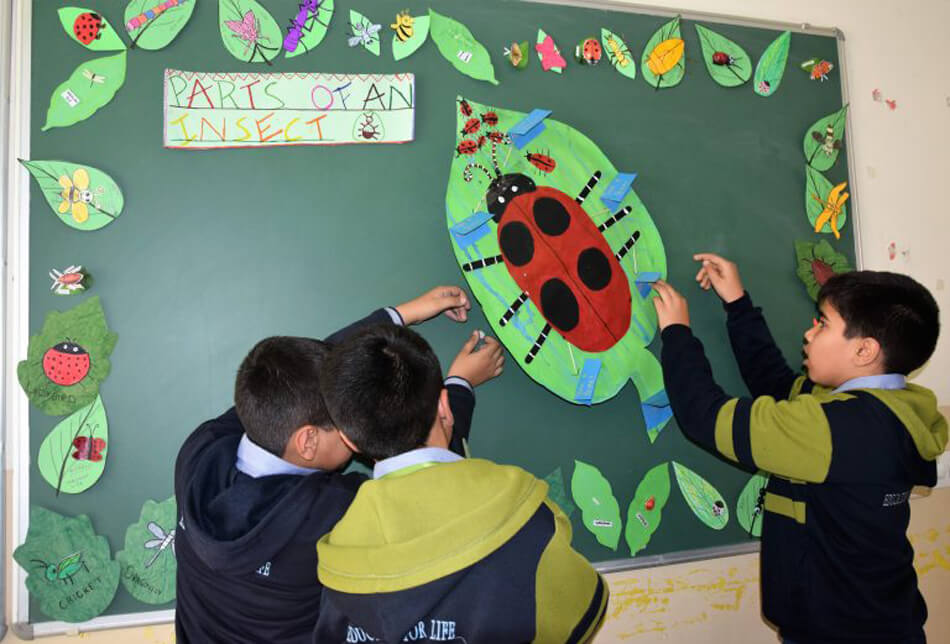 PLANTS
While grade 4 dealt with fauna, grade 5 found itself lost in deep jungles of different kinds of flora. They explored trees, medicinal shrubs, eco-systems, flowers and a lot more in their Funkaar explorations. Other than learning about the flora of different geographies, the students also kept a keen focus on the kind of flora which exists in their immediate surroundings, in Gurgaon. Such a close explorations enabled deep comprehension, as well as artistic and diagrammatic representations of what the students learnt.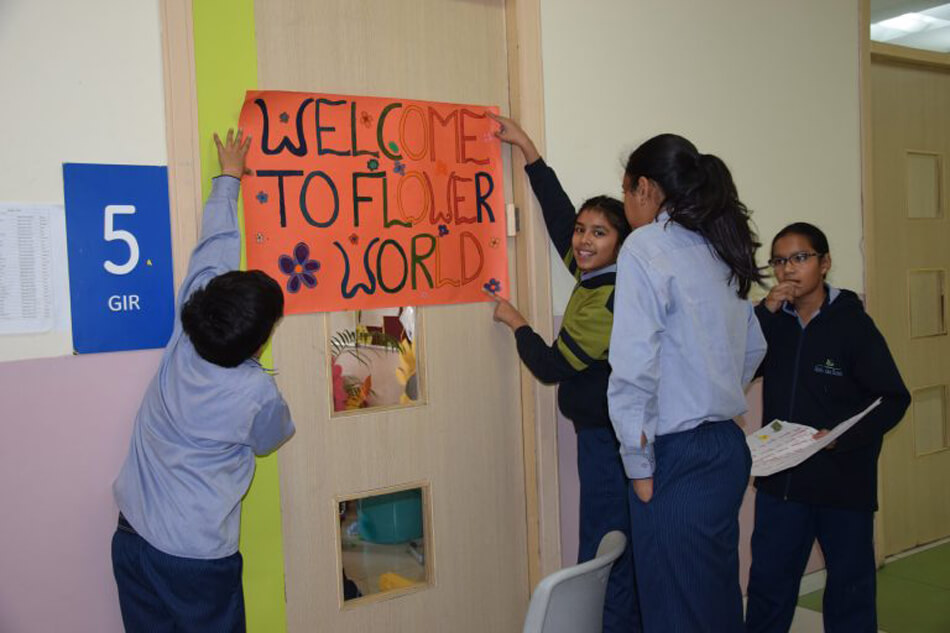 A grand mela of education is put up each year where learning echoes in each corridor – but not in the voice of the teacher. It is the chirpy students who eagerly take their elders and peers around to show what they learnt and how they learnt. The pride of having undertaken a project collaboratively with their peers is evident, as is evident the confidence of learning something new from scratch. Funkaar Week is an exploration of not just curricular concepts, but also the self. May the joy of learning never cease!
Feb 13, 2018 by Shiv Nadar School