SciMaTech Moments!
Science is an avenue for expression, mathematics is an opportunity to get creative and technology is the vehicle to show your thought process to the world – and the magic of all three combined in the SciMaTech week. It is when the language of numbers combines with the concepts of science to create mind boggling experiments. It is also the week when basic phenomena of the world around us are deconstructed, studied and presented in front of an audience of students, teachers and parents. It is here that new ideas take flight and innovation with action is encouraged. And why not! It is here and now that young minds can be stimulated to envision a future where their skills can be employed to build better living conditions.
SciMaTech Week – a celebration of Science, Mathematics and Technology through engaging activities – finally came to a close this past Friday, on the 3rd of November, when all students from grade 6 to 11 of Shiv Nadar School, Noida, put on display their fascinating projects in the Exhibition!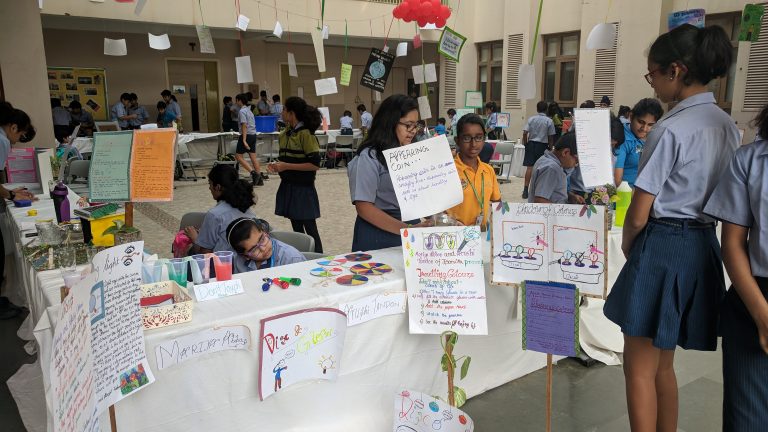 Here are three of them which left us in absolute awe!
Singing Glasses – Musical Science!
Bringing a harmonious melody to our ears throughout the day, students of grade IX demonstrated the 'stick and slide' principle on the rims of glasses containing different volumes of water.
Sliding fingers in circles around the rims of the glasses produced vibrations inside the glass, which in turn produced sound. As for the pitch and volume of the sound, changing the amount of water in the glass and the changing the pressure on the rim does the trick.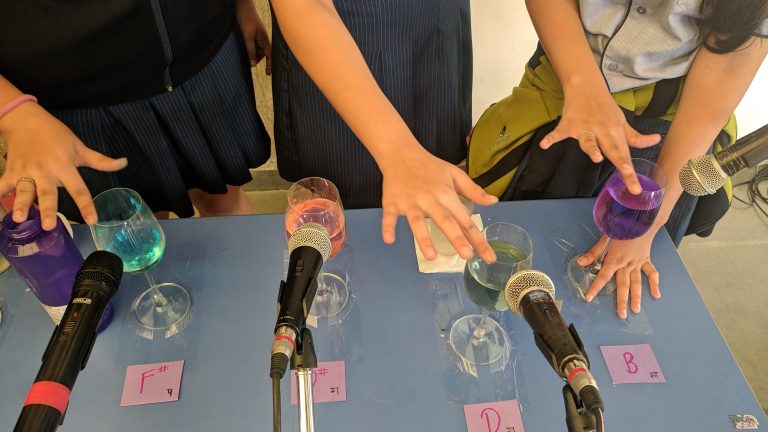 Van De Graaff Generator – Get Charged!
When a Van de Graaff generator starts charging, it transfers charge to the person who is touching it. Since the person's hair follicles are getting charged to the same potential, they try to repel one- another and the person's hair stand up!
This experiment was a hit with students and teachers alike, and other than learning about charge and its transfer, led to a lot of fun. Well, wouldn't you have fun if your friend's hair rose up in the air, right there, in front of your eyes!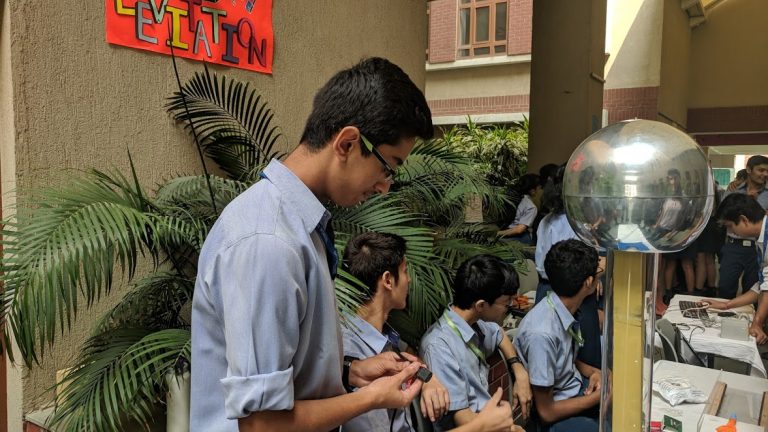 Coloured Shadows – There aren't just Black!
Students of grade X dazzled our minds by creating coloured shadows using flashlights of different colours. When lights of different colours shine on one spot on a white surface, the light reflecting from that spot to our eyes is a mixture of all these colours and so when we raise our hands or any object in front of them, the shadows are formed in colour. How interesting then to notice that if we put our brain to it, we can also add colour to the dark shadows. Our creativity, combined with comprehension of scientific concepts can literally make a dull day bright!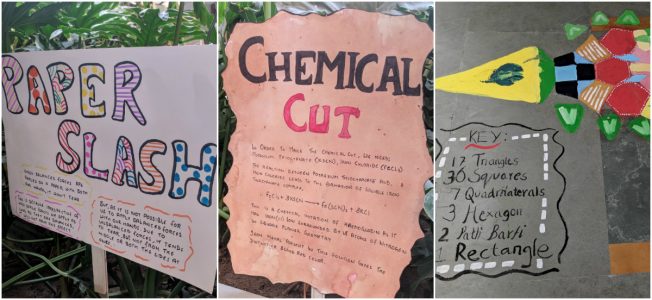 Among the festivities, were other amazing projects and games like The Flying Drone, used to check air purity; Solar Magic, a solar-powered mini-boat; The Chemical Cut, making fake blood and so on.
We're already waiting for the next SciMaTech week, for the sheer excitement which practical application of concepts generated in us. Few of us have already begun thinking of the projects we will undertake next year, and hopefully, we'll come back with a grander event.
– Written by Shania Ratra, along with members of the Senior School Ed-Board.
Nov 9, 2017 by Shiv Nadar School Faridabad