SAKURAIS – THE ENERGY AMBASSADORS
Baarish Raman was one of the nine students of Shiv Nadar School Noida who went to attend the Sakura International Science Programme in Japan this March. He reflects by saying that "This enriching trip to Japan has not only been highly erudite from the point of view of science but has also enabled us to experience a whole new world. We went to the very heart of the country, Ashikaga, which gave us the actual taste of Japan's culture ensconced in the ordinary daily life of the locals. Getting to learn about the future of the sustainable world and renewable energy in the country most renowned for technology and science was truly a one in a million opportunity. This trip not only gave us a chance to learn but also bond with our classmates."
Promoting science and technology is a key engine to materialize a bright future of Asia. Based on this concept, Japan-Asia Youth Exchange Program in Science – SAKURA aims to facilitate short-term visits of competent Asian youths, who will play a crucial role in the future field of science and technology, to Japan through an industry-academia-government collaboration. The program aims at raising the interest of Asian youths toward the leading Japanese science and technologies at Japanese universities, research institutions and private companies.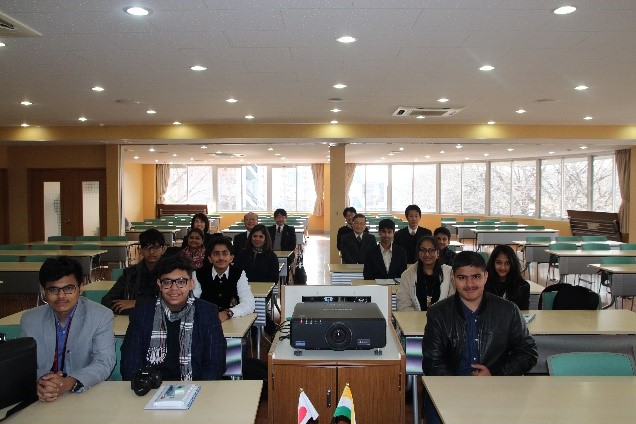 Nine students and a teacher from Shiv Nadar School, Noida (the only school which got selected for this program from India) visited the Ashikaga Institute of Technology. This was a nine-day Science and Cultural immersion, the theme of which was Alternative Sources of Energy. Students were briefed about Solar, Wind and Hydro Energy. The design included introduction sessions, hands on sessions and reflections.
Introduction: The eminent professors of Ashikaga Institute of Technology took the students through the status of harnessing alternate resources of energy in Japan, its future prospects and importance of its implementation worldwide.
Hands on session: During the hands on sessions, students made dye sensitive solar cells, a windmill, a rocket which worked on hydro pressure, and hydro pumps. All the required activities right from drilling, cutting, soldering, fitting etc. were done by the students.
Reflection: Once the devices were made, the students tested the efficiency of those devices and discussed their observations.
The students visited the Sun and Wind Square of the Institute and got the opportunity to see different kinds of wind mills and solar cookers.
The cultural immersion also included a visit to an Indigo dying unit, a textile industry, shrines and home stay with Japanese families. All the participants also tried their hands at calligraphy and origami.
The icing on the cake was the visit to the Miraikan Science Center in Tokyo where the students witnessed numerous displays on future technologies, robots, disaster management, biological advances and space science.
Going forward, the students are planning to hold an exhibition for their peers from all three Shiv Nadar Schools to share their learnings. They are also planning to set up a small climate lab with prototypes of solar cells, cookers and wind mills.
As Baarish Raman reminisced, the trip was indeed enriching!
Apr 1, 2018 by Shiv Nadar School Noida