The Many Miracles of Mindfulness
"Waking up this morning, I smile. Twenty-four brand new hours are before me. I vow to live fully in each moment and to look at all beings with eyes of compassion."

― Thich Nhat Hanh
Walking into Shiv Nadar School Noida on a typical winter afternoon, one would have seen the usual sight – corridors bustling with cheery students and staff, and the grounds awash with happy children playing, running and having fun. But December 18 was ever-so-slightly different! The afternoon saw a small group of people, led by six robe-clad monastics, walking in perfect unison through the school campus. With gentle smiles on their faces, the monks gave us instructions on how to perform "walking meditation". This was one of the many techniques taught to parents, educators and students as a part of the three-day Mindfulness Retreat.
Simply put, mindfulness is a state of perfect awareness in the current moment. This includes awareness of what goes on within as well as outside our minds. It refers to paying attention to one's moment-to-moment internal and external experience — thoughts, emotions, sensations, the surrounding environment — with an attitude of nonjudgement, irrespective of whether these experiences are negative or unwanted.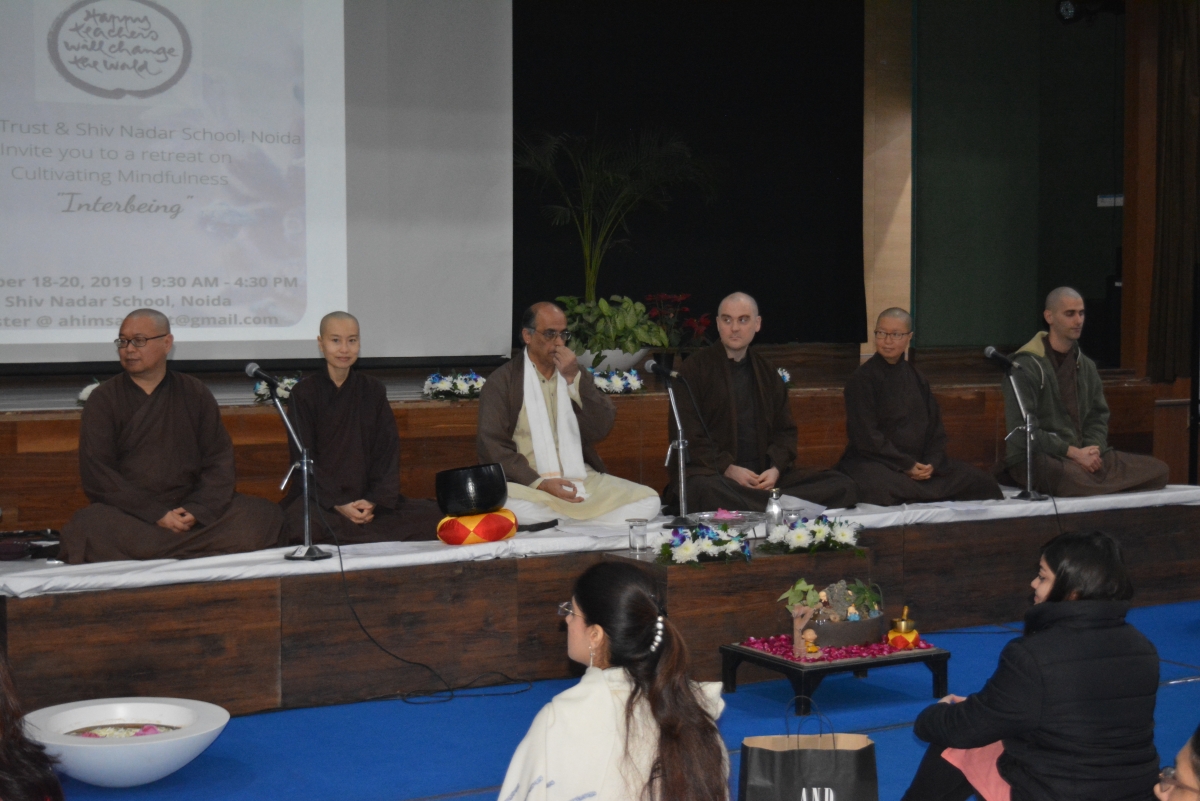 Mindfulness-based interventions have, in fact, been proven to positively alter the structure of the human brain. It can improve attention spans and concentration, enhance social-emotional learning, develop interpersonal awareness and skills, strengthen cognitive awareness and enhance inner resilience. Much as the physical body strengthens with exercise, so too does the brain with meditation and mindfulness. For students and educators alike, cultivating mindfulness can be a powerful tool in their arsenal when dealing with stress, anxiety and depression.
Recognising the multitude of benefits offered by the simple practice of mindfulness, we have inculcated it as a way of life at Shiv Nadar School – it is a part of our day-to-day functioning. All of our in-house school programs begin with our mindfulness bell. Mental health sessions are frequently organized with a focus on teaching effective mindfulness strategies. We have thus created a cohesive, compassionate and harmonious learning community in school.
Recently, Shiv Nadar School Noida in collaboration with the Ahimsa Trust, organized the Mindfulness Retreat from December 18-20. Being one of the many parent partnership and engagement initiatives undertaken by the school, participants at the Retreat included parents, school staff as well as students. Six monastics following the Plum Valley Tradition (founded by Nobel Peace Prize Nominee Thich Nhat Hanh) had come to the school. Teaching us about mindfulness and its significance in our lives, they each spoke of their unique personal journeys and how mindfulness practices impacted their lives. They also expounded upon the theme of the Retreat, which was "Interbeing" – referring to the interdependence and interconnectedness of all things in nature.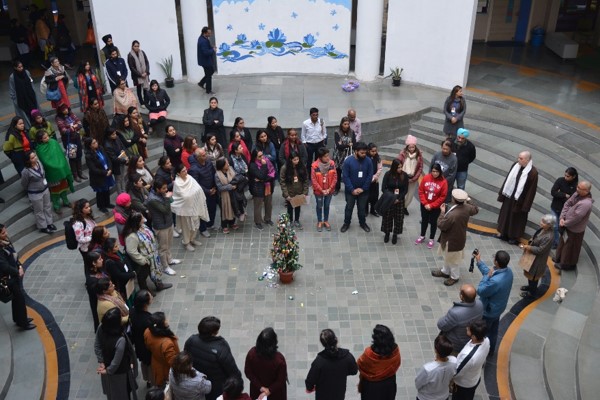 All three days began with a beautiful musical medley; these simple, catchy and affirming performances were led by the monks, with children from the Early Years and Primary sections singing along with the audience. This performance set a positive tone for the events of the day to follow. Mindful eating was also practiced on all three days, with the monastics teaching the participants the beauty of silent eating and practicing gratitude. Other events included talks, guided meditations, instruction in mindfulness techniques, deep relaxation meditations and more. All three days concluded with an activity called "Circle of Sharing" – where the participants were all divided into smaller subsets, each group led by a monastic, to facilitate a non-judgemental space for sharing. This was not just a way for people to open up and discuss personal issues and anecdotes, but also a way in which they could discuss how to inculcate mindfulness practice in their day-to-day life.
Living in an era full of distractions, mindfulness finds significance today more than ever before. As 2019 draws to an end, let us welcome the new year with a fresh perspective; facing challenges while putting our best foot forward and making a commitment to better ourselves, both physically and mentally, every single day. In this context, the world must evolve from treating mindfulness as a well-meaning option, to considering it as an integral way of life.
Dec 31, 2019 by Shiv Nadar School