Great Teachers Are Never Forgotten
It was a day of delight, of pride, of bright smiles and the reiteration of a shared mission. Among the most looked-forward to day in the year is our Cheers to Peers event – a time to honour all the star-performers of our establishment who work relentlessly, day in-day out, to infuse life and reality into our vision of quality education and lifelong learning.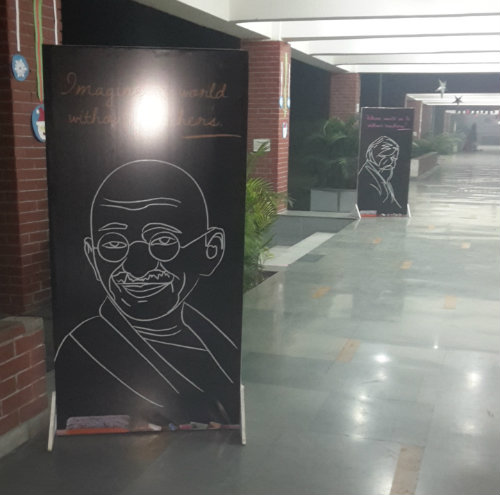 For the uninitiated, Cheers to Peers is an annual Reward and Recognition event. Nominations and winners of these awards are decided on the basis of an open and transparent peer assessment process. Besides, the Cheers to Peers programme comprises of a lot of fun activities where all our employees are given a chance to interact with each other in an informal atmosphere.
On the morning of 24th December, as our employees entered Shiv Nadar School, Noida, the venue to C2P, they had no idea about the kind of happy surprises in store for them. The path leading to the auditorium was decorated with words and faces of the Greatest Teachers who have graced our country and left an indelible mark of their genius on generations of students and learners alike. We firmly believe in the statement – Great teachers are never forgotten. They live on in the thoughts and actions of their students. It was only apt, hence, that we invoke great teachers like S. Radhakrishnan, Rabindranath Tagore and Mahatma Gandhi as we settled down in anticipation of what the day had in store for us.
Colonel Gopal Karunakaran, the much loved and respected CEO of Shiv Nadar School, kickstarted the day's proceedings with a very inspiring and warm speech. Among the many beautiful things he shared, he listed the attributes of an able and motivated employee in our Core Team. We were all happy to hear that the name which fit Colonel Gopal's story was that of Prakash – our office help, who is now indispensable to the daily proceedings, because he goes beyond the call of duty each time he feels the organization needs him.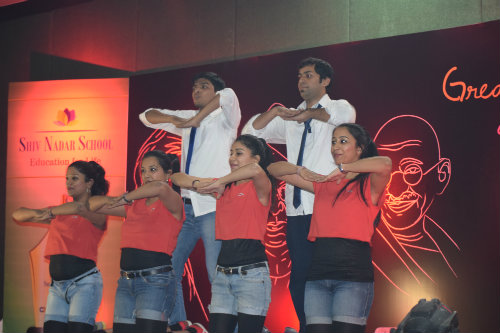 A number of different honours were bestowed on members of our organization. These included
1. STAR Awards – These awards are given to express gratitude and give recognition to people from the admin team who have shown exceptional standards of dedication to their job roles. STAR, in fact, stands for 'Special Thanks and Recognition'.
2. SPOT-ON Awards – These are our TGIM Awards, in other words, our Thank God It's Monday Awards. They are awarded for promptness, punctuality and countless hour of enthusiastic devotion to the organization.
3. Shawards - A set of fun awards, named thus in the Punjabi style humour! These were the only awards which used witty poetry to felicitate the winners.
4. SPARK Awards – These awards are given to honour innovation in teaching methods.
5. ABCD Awards – ABCD stands for Above and Beyond the Call of Duty. These awards recognise the vigour that is brought to our system by employees who go beyond their defined job roles to help the organization achieve its best.
6. Recognition for Programme Leaders and teachers anchors at the Development Centre, for the continuous effort they put towards providing support and guidance to teachers at our school.
7. Extraordinary Achievers Awards - Simriti Singh, from Noida school, was given this award to appreciate the stellar work she has been doing as an independent researcher on evolving conducive learning spaces for students.
8. The Dependables – These awards were given to teachers who we know are always there for us to rely upon, even in the most unlikely and unexpected of circumstances.
9. Cheers to Peers Awards – These were the big honours of the day, awarded to 12 teachers, 6 from Noida school and 6 from Gurgaon school, in recognition of their brilliance, dedication and levels of motivation towards their task. The Cheers to Peers award are based on a peer assessment process where teachers vote for other teachers on parameters aligned to the Value System of our school. Needless to say, the winners of these awards were teachers who consistently excel within and beyond their job roles.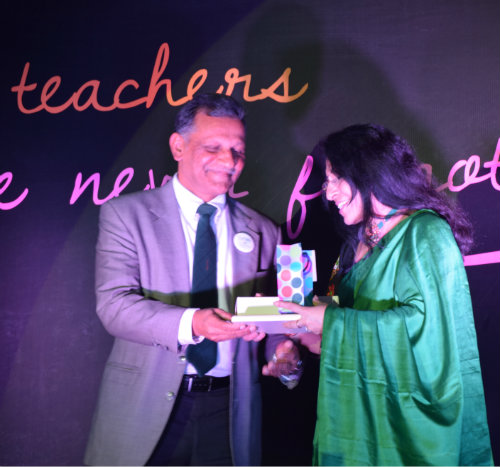 After all the awards were given, Mr. Shikhar Malhotra came on the stage to give the closing address. The thrust of Shikhar's dialogue lay on the fact that great minds attract great minds, and Shiv Nadar School is a fortunate organization to have attracted and nurtured such minds which aid our progress towards becoming a great institution.
As a surprise, all of us received white T-Shirts on which our colleagues wrote little messages for us. These scribbles are tangible memories we will all keep with ourselves, to relive these moments years later, with an unconscious smile on our lips and an unexpected tear in our eyes. They day culminated in a well-earned lavish lunch for all.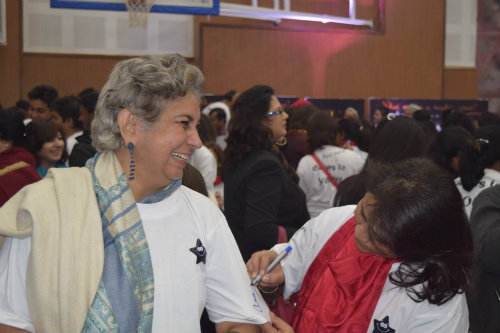 It's been time since the glorious day, and we cannot stop gushing about it. Cheers to our peers, our students, our parents, our partners, and to everyone who help make Shiv Nadar School such a wonderful world of knowledge to bask in!
Dec 29, 2014 by Shiv Nadar School Noida