Exploring Our Artistic Side
On Monday, 13th October, we started on our journey of cultural and artistic exploration by launching the Funkaar Week – a much awaited week-long immersion into the lesser discovered domains of art and culture. At the heart of Funkaar Week lies our integrated approach to teaching. Here, by taking the co-scholastic route, we try to fulfil the objectives of the scholastic curriculum. Today, after a week of some exciting activities, workshops, lectures and demonstrations, we know we have come a long way in gifting our students a wealth of knowledge, a lot of which will have practical application in their lives.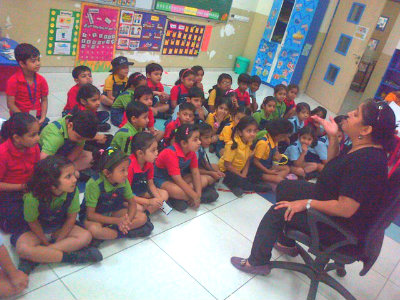 Learning through stories
The term 'Fun-kaar' has been coined to include the elements of fun that accompanies the exploration of arts. This is the time when we delve deep into our heritage and make children come in close contact with aspects of tradition which are otherwise overlooked under the demands of modern living. A large part of what we are today and what our future will look like derives from our past. One of the prime focus areas of Funkaar is to make this past come alive. This has been done by unveiling for our students the magic of ancient mathematical puzzles, or by putting on display martial art forms being practiced in distant corners of our country since ages.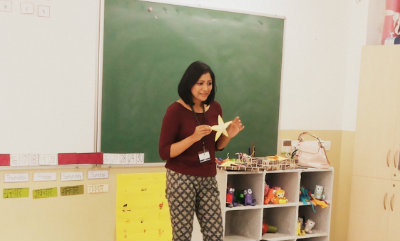 Understanding Underwater Evolution - Life of a Starfish!
Besides establishing contact with our past, Funkaar Week strongly brings out our educational approach of giving students more hands-on and experiential opportunity for learning. Students learnt measurements by visiting the sports ground and they understood the importance of waste disposal by adapting the issue to a stage play. These are, of course, only a few examples from the plethora of activities being conducted in the school during this week.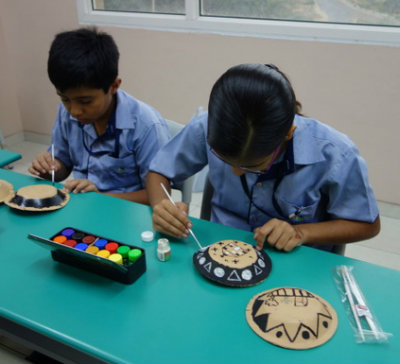 Getting Crafty!
The harmony that arises out of fusing forms of art is also an area our students will have the privilege of exploring. How would a classical dance form like Kathak look when performed with a folk dance form like Chhau? Well, ask our students, because they attended a workshop on the same this week. The joy on the faces of the students as they see shadows gesturing to tell a story, or puppets dancing to the tune of folk music is unmistakable. More profound is their joy when involved in the process of creation, during the many art and craft sessions organized for them.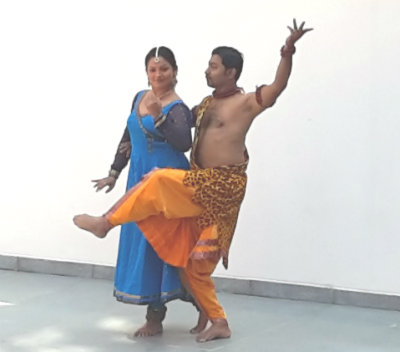 Fusing Dance Forms - Kathak with Chhau
Students are our school are currently fine tuning their oratorical skills, their dancing capability, they musical prowess and their painting aptitude. Aside from these visible skills, such diverse exposure also nourishes the mind and soul of a child. These activities help bring about social and emotional development, a spirit of collaboration, a richer understanding of our collective heritage and lend the power of spontaneity and creativity to students. And not just students, but our very enthusiastic teachers have also been seen living their passions in the school, by doing activities they were always keen to explore.
Our CEO, Colonel Gopal Karunakaran had once remarked, "For everything we do in our life, there is a bit of what you are inherently, and there is a large amount of what you make yourself to be. We are interested in identifying that inherent element to prepare children better for the race of life."Among the many initiatives integrated into our year long curriculum, Funkaar Week is one effort to help children identify that inherent element, and to discover the artist inside them. If the smiles of our students are anything to go by, we're well on track to achieving the said goal!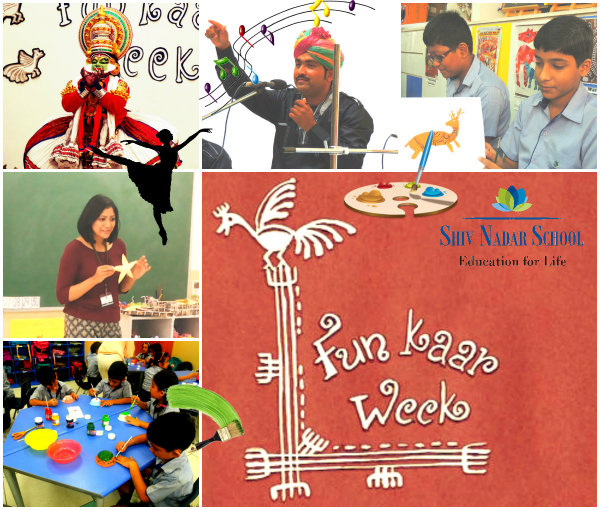 Oct 20, 2014 by Shiv Nadar School Noida