Creativity Speaking For Itself
Our school is an institution proud of giving arts, creativity and innovation their due respect and position in our curriculum. Through structured programmes like Aha!, we give exposure to different types of creative and performative arts to all our children, over and above that mandated by the CBSE. Since the value we are exploring this month is Openness and Transparency, we thought of directly having our music and dance teachers share their creative stories with you. Among the many things they shared with us in an interaction, we were told that openness, understanding and freedom to explore are fundamental qualities needed to allow arts to flourish. The enthusiasm these teachers hold towards their craft as well as towards nurturing little dancers, singers and musicians is inspiring. Here, we will let them speak for themselves.
The Musical Trio, Shiv Nadar School, Gurgaon
Their eyes light up with happiness and love, the moment you ask them all to talk about music – their common, defining passion, no less. Rashmi Sharma, Bhairav Gupta, and Gaurav Nahar – these are the faces who hold the flags of music high in Shiv Nadar School, Gurgaon. Their collective voice echoes in the praise of the environment the school gives them to pursue music, giving expert guidance to students in their respective, chosen fields of musical specialization.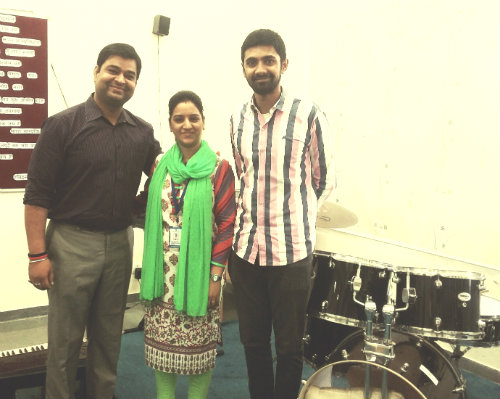 Bhairav would proudly tell you, "Music demands everyone to be that precise and accurate, so you are competing against everyone, but in the most inclusive manner. It is a team competing for itself, which is completely different from academics."That is the inclusive aspect of music. It brings talent together, while creating a fertile ground to aspire for individual excellence.
Rashmi becomes nostalgic and happy when you ask her about her first days at Shiv Nadar School. "I joined Shiv Nadar School as a Founder teacher", is the first thing you hear from her. Her music story is also very inspiring. "When in fifth standard, I got a chance to go to Bal Bhawan. That is where the calling came from. I bought my first piano using saved up earnings, without telling my family!" She began with playing and teaching Harmonium and has performed internationally at places including Russia. Having received her training at Gandharva, she is now snug in her role of a music teacher at Shiv Nadar School.
Gaurav Nahar is a professional violinist. He belongs to a traditional music family. "Music is in my blood. Ever since I grown up, everyone around me was pursuing some form of music or the other", and hence came his calling. Music, indubitably, flows in his blood. You just have to glimpse him hold up his violin with the grace and confidence, and you will know what kind of a passion are we talking about.
Bhairav, like Gaurav, also comes from a family where the understanding of arts and culture was very high. "I come from a pretty creative background. My dad is a painter and mum is a linguist." He comes from a typical Bengali family and as he would tell you, every Bengali family has a grandmother with a harmonium. That probably was his starting point in the domain of music. He remembers his family hosting musical soirees while he was still a toddler. Today, he feels lucky to be in a place which allows his creativity to reign free.
"We all feel very lucky when we come here. This kind of atmosphere and freedom you will not find anywhere else. The children need to enjoy – if they enjoy that is our success" – these are the most glorious words with which we end their story for you, but only for now.
The Chhau Expert, Shiv Nadar School, Noida
"Dance is not a mere hobby. It brings a lot more in your life", and thus begins the story of Rajesh Saibabu. A jovial, talkative-once-initiated person, Rajesh can overwhelm you with the love and devotion he holds towards his craft. "Dance infuses discipline. The combination of dance steps and rhythm, and the harmony that arises from them helps in de-stressing a person."
If there could be a brand ambassador for our Aha! Programme, it would have to be him. In a family which was buzzing with doctors, engineers and other professionals and academics of all sorts, Rajesh chose to pursue his absolute passion – dance. And it is this choice which made him stand out.
"I thank God that dance and music are given their due value in the school. Our Principal and seniors give us all the support we need in order to pursue our craft freely and responsibly." Says Rajesh.
No one can forget his gravity-defying Chhau dance performances. True, dance was not a profession which many of his kin followed, but Rajesh was lucky to have found his core inspirations within his family. "My mother is my inspiration. My father is my Guru." Always up for a friendly chat, you should make sure Rajesh teaches you a step or two of Chhau next time you bump into him.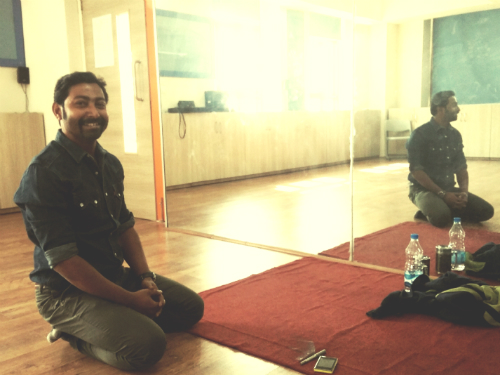 These are a few bright and positive faces we brought in front of you in this article. We will keep introducing you to more such people who define the spirit of who we are, and what we do at Shiv Nadar School. Till then, keep reading!
Dec 7, 2014 by Shiv Nadar School Gurgaon