Colloquium : Where Innovation Meets Imagination
On the chilly morning of December 20, seven teams of Grade 10 students from Shiv Nadar School Gurgaon and Noida stand ready and waiting to take the stage. Today, they must present projects they've been tirelessly working on. After six months of brainstorming, conceptualising, prototyping and perfecting, in the Wildcats Hall of our Gurgaon campus, we are just about ready to begin. Welcome to Colloquium 2019.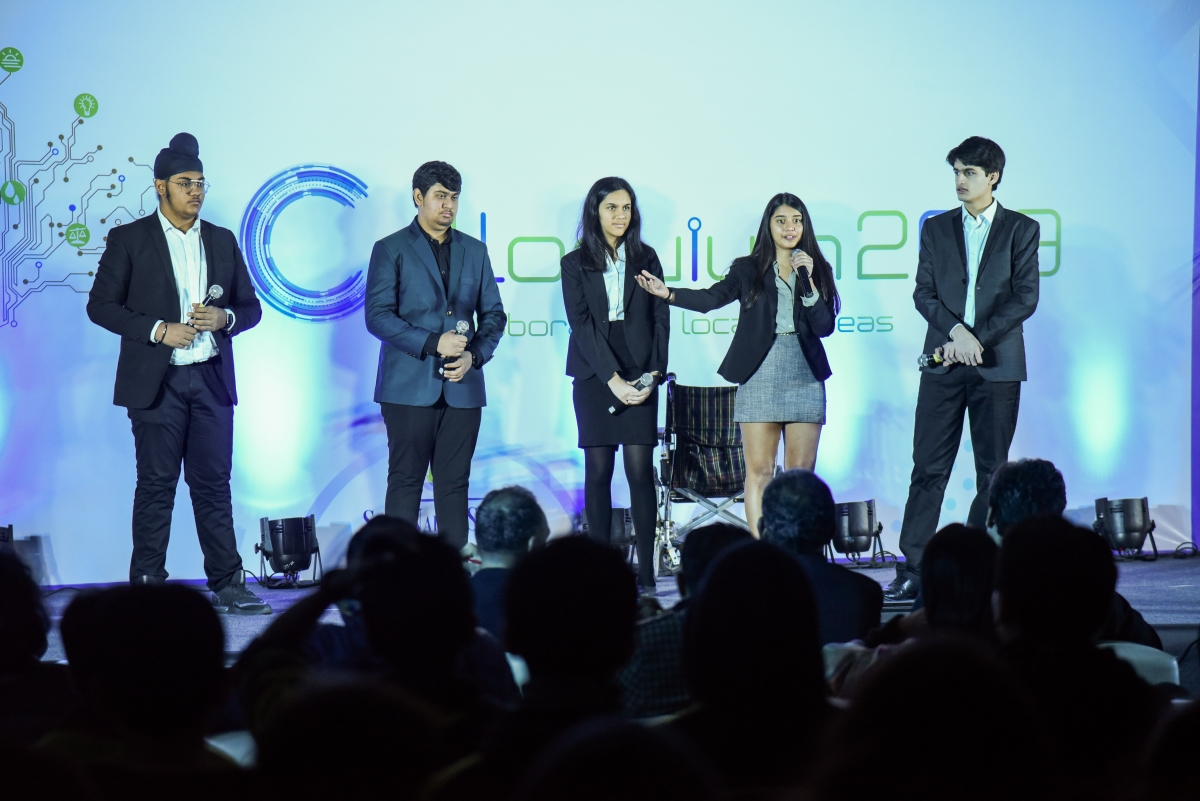 Our students undergo an integrated IT curriculum which includes Robotics, Animation, Graphics, Sound Production, Programming and more. When they reach Grade 10, they are given the opportunity to implement their knowledge by way of a six-month long Capstone project. These projects are ideated by the students, and are designed to solve real world issues. In developing their presentations, the students bring more than just their IT learning to the table; they also showcase their critical thinking, communication skills and market understanding.
Colloquium, our annual tech event, provides a platform for students to present seven of the most innovative projects, to be adjudged by an external jury. This year, Mr Rajiv Makhni, India's Tech Guru and Managing Editor of Technology, NDTV, Mr Raj Rishi, Chief Business Officer - Corporate Travel, MakeMyTrip and Mr Hitesh Oberoi, MD and CEO, InfoEdge (Naukri.com), graced the occasion, constituting the esteemed panel of judges.
Up first was Team Hoverchair. The aim of their project was to make a customizable and cost-effective wheelchair in the aid of the physically challenged and senior citizens, to enable them to lead an independent lifestyle. Upon brainstorming and understanding the flaws of existing manual and electric wheelchairs in the market, they came up with their design – a customised wheelchair, installed on a hoverboard base, with levers installed on either side to enable the user to manoeuvre the hoverchair. Each of the jury members had a quick whizz on the Hoverchair prototype, post the students' presentation.
Taking the stage next is Team Speranza – a 6-member all-boys team whose innovation is a wearable, non-transmitting, abdominal belt designed for pregnant women to count the number of foetal kicks. Their passionate presentation, artfully sprinkled with moments of humour, held all of our attention as they took us through their journey, from coming up with the idea and concept, to refining the design and technology they used as they went along.
Team Ignara came next, carrying exquisitely crafted lights and placing them in front of the audience as their journey video was played. The video captured the essence of the project, showcasing the all-girl team's repeated visits to a basti without access to electricity. Their aim was two-fold; creating beautiful solar lights made of upcycled plastic bottles to illuminate homes, as well as to empower local youth into making these cost-effective solar lights themselves.
The fourth Team to come up on stage was Team Pawsitivity. With the aim of using 3-D printing technology to facilitate disabled dogs with prosthetic paws and limbs, they showed us the positive outcomes their innovation – at a local shelter, three disabled dogs were shown taking confident strides, walking and running happily, newly fitted with their prosthetics. Greeted with multiple rounds of thunderous applause from the audience, India's Tech Guru, Mr Rajiv Makhni, said he had a tear in his eye after watching the dogs being able to run again.
Next in line is Team Sonus, a 3-member team made of passionate music-lovers. Their innovation was a wearable device through which hearing-impaired people can feel music. Their presentation took us through their process – including multiple visits to an organisation catering to the hearing-impaired - and subsequent testing on people of varied levels of hearing. Designed as a jacket with arm pads, each of the 3 judges came up to the stage to wear and test out the product for themselves. "I'm stunned at both the idea and implementation," remarked Mr Makhni, "Fantastic thought process."
The penultimate team to present their project was Team Fluid Force. Tackling the issue of the alarming amount of water wasted during the RO water filtration process (for every litre of water purified, 3 litres go down the drain), the team proudly informed the audience that they saved more than 40,000 litres of water in just 15 days with their device installed at 5 properties, both residential and commercial. Received with thunderous claps, the team's engaging presentation held our rapt attention.
The final team at the event was Team Marina – with a visionary project to clean out garbage from both the surface and sub-surface of rivers. Their device was a remotely-operated vehicle, fixed with a camera, to enable garbage-collection. Their presentation highlighted the critical point our rivers and oceans are at, as well the plight of marine fauna in the context of plastic pollution. They finished off with an on-stage demonstration of their device.
Post the seven presentations, some of the students in the audience had us entertained as they came up to the stage to discuss which projects resonated with them and why, as well as talking about their ideas for their own capstones in the future! Shiv Nadar School Faridabad also made its own presence felt at the event, with a small video of the grade 9 students' invention, "ALT" – a mist tap fixed throughout the Faridabad school campus, in a bid to conserve water.
Subsequently, post a quick deliberation, the jury returned to announce the results. Mr Makhni graced the stage and declared Team Fluid Force to be the winners! They were awarded with a trip to CERN in Geneva, Switzerland. In second place, came Team Pawsitivity, with each member winning an iPad. Garnering special mentions from the judges were Team Hoverchair and Team Speranza.
Concluding the event, each of the jury members were presented with 3-D printed miniature models of themselves. They also delivered a few parting words each, lauding the level of innovation and critical thinking as also the students' presentation and communication skills.
Our belief is that schools must serve as a launchpad in the emergence of the next generation of innovators, entrepreneurs, social scientists and future visionaries. Twenty-first century problems can only be solved with a twenty-first century attitude – inventing solutions that are, in equal parts, innovative, disruptive and fearless.
Dec 27, 2019 by Shiv Nadar School